Printed circuit boards (PCBs) that contain electronic components are found in practically all electrical devices.
PCBs can be classified into different types:
Some boards require material with electrical characteristics for high frequency and data speeds. In addition, some boards may have to withstand very high temperatures and may require thermally conductive material or boards that require heat dissipation solution. Different boards with different applications require different materials.
PCB materials are generally made up of three elements that work together to meet the specific needs of the electronic system: Copper, Resin and Glass.
Glass
Glass fabric is available in different width and thicknesses.
Glass style:
Resin
The resin is determined by what properties are needed to design board function. i.e. Tg, Dk,Df etc.
The resin must be compatible with the glass fabric and the copper foil.
Copper
Copper is defined by weight and foil type i.e. ED (Electro Deposited), RA (Rolled Annealed), RTF (Reverse Treat).
The copper must be with a good peel strengths in order not to pull away from the glass and resin.
There are two main categories of materials used in the production of printed circuit boards:
Thermoset: These have high melting points, but once exposed to a certain temperature and cured to a solid state their components and physical properties become set. They cannot be melted back down or restored to their original properties. Thermosets include resins such as epoxy, polyimide, and aramid.
Thermoplastic: These have low melting points and when heated will soften to a malleable state or melt to a liquid state. This means they can be shaped into nearly any mould or design. Even extreme heat does not change the makeup of the material. Thermoplastics are usually PTFE based using organic or inorganic fillers.
Thermoset materials are supplied by the manufacturer as laminates. C stage i.e. after the polymer (Prepreg ) known as B stage has been subjected to pressing at high temperature and pressure between two copper foils.
Prepreg is usually made up of woven glass cloth soaked in resin. As advised previously, the resin can be of different types. Similarly, the glass fibers may be made up of different glass types and thicknesses.
The laminates and prepregs are reinforced by glass cloth.
Higher frequency and data transfer rates demand that accurate and lower dielectric constants are required and thickness, together with glass to resin ratio, must be strictly controlled in the planning and manufacturing stages.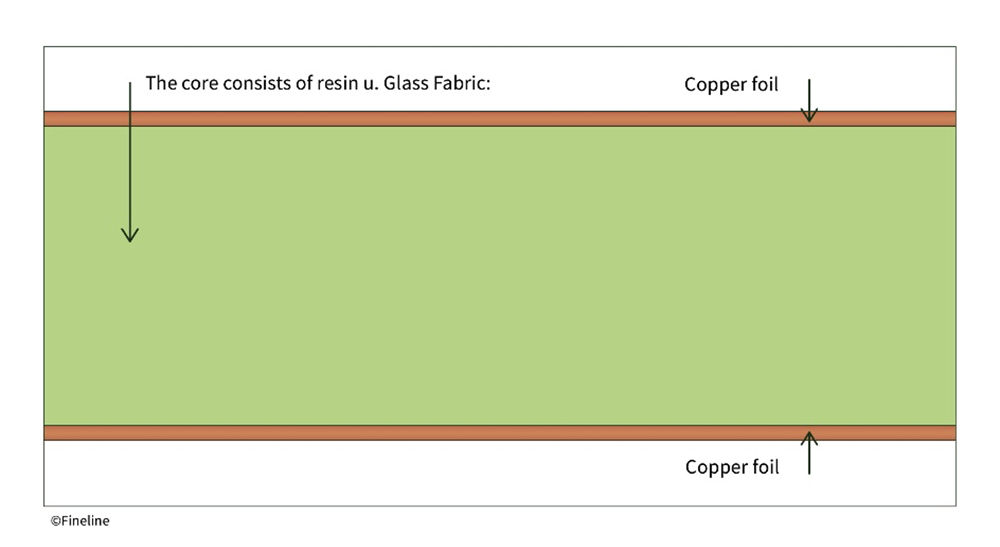 Some laminate properties
Tg: Glass Transition Temperature Temperature at which the Material changes from rigid to deformable state.
Td: Decomposition Temperature Temperature at which the material begins to decompose.
CTE-Coefficient of Thermal Expansion The rate of expansion of a laminate as a function of temperature change.
Dk- Relative Dielectric Constant The property of a material that impedes the transmission of an electromagnetic wave.
Df-Loss Tangent The property of a material that describe how much of the energy transmitted is absorbed by the material.
Selecting The Best Material For Your Board Type
In the following table, some common laminates are compared according to dielectric constant (Dk ) ability to withstand heat (Tg) and application.
Material categories as defined by the IPC: 
Rigid and multilayer printed boards IPC-4101
High speed/High frequency applications IPC-4103
Flexible base dielectrics IPC-4202
Cover sheets and flexible adhesive bonding films IPC-4203
Flexible metal-clad dielectrics IPC4204
PCB materials comparison
Material type
Dk (@1MHz)
Tg (0C)
Application
FR4
4.2-4.8
135-140
Standard
FR4
4.5-4.8
150-170
Standard/lead free
FR4
3.4-3.8 (@1GHz)
180-220
High speed
PTFE
2.2-2.8
160
RF-Radio Frequency
Polyimide
3.8-4.2
≥250
High temperature use
The above table does not list all possible combinations of PCB materials. 
Contact  our experts at Fineline to help you choose the right material for your board to ensure high quality and high reliability.