Efficient Heat Dissipation in Printed Circuit Boards
The development in electronics is characterized by increase in the power density of components. As a result, the problem of thermal load during operation of components and assemblies due to increasing heat loss is becoming increasingly important and should be considered with the greatest possible care as early as the planning and design phase.
The resulting increase in system reliability is directly related to efficient PCB heat management.
There is a wide range of possibilities to realize an efficient heat management for printed circuit boards.
Cooling concepts:
Thermal vias
Metal core PCB
Copper coin
Heat sinks
Heat pipes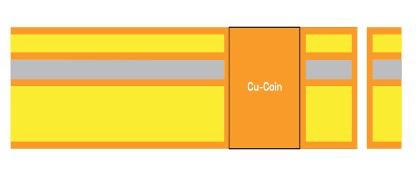 The Coin technology was developed to improve the heat dissipation of high-performance components. It is perhaps the most cost-intensive, but also the most effective and direct method of conducting heat away from a specific location around the PCB.
A Coin is a  copper block, e.g. in a round, rectangular or other shape that implemented in the PCB.
There are different ways of integrating the coin into the PCB. The most cost-effective way is the press-fit method, in which only the outer layers of the PCB are contacted